Assignment writing for graduate and post-graduate students is necessary to get good grades. But they always find it difficult and not their cup of tea so they directly choose university assignment writing help without even trying to write it. To make the process easier for them, we have given some guidelines to write a perfect assignment and research project in this article. You can read all of them and give attempt to write, maybe you succeed at it.
How can you write university assignments?
Use every source of information you have: You have to use all the sources you can find related to the topic. You can find books in libraries and find research papers online. There are some sources also mentioned in the brief, you need to use them too.

Do references properly: Referencing the assignments is a vital part of doing it because you have to tell the information present in it is genuine. Keep the referencing style in mind which is given in brief, use that style only.

Plan your content: Before writing the assignments, you should plan the whole process. In short, make a blueprint of it, what you want to write in it, and which information is important and which is not.

Proofread and Edit properly: Once the writing part is completed there must be many grammatical mistakes, errors, typos, etc. which can only be identified once you proofread your work. After finding the mistakes, edit your entire work to make it correct.
Guide to writing research projects
Understand the research project: You need to accomplish some specific tasks that are set for you to complete the research. Read the tasks properly, and know the goals, submission timings, and important details.

Choose a topic for your research: The topic for the research is given by the tutor in the brief. If it's not given then find a unique topic that interests the reader. It should fulfill the criteria and the research should be possible on that.

Conduct preliminary research: Be more attentive in lectures, if there is any discussion regarding your topic then write the key points. Check the books, journals, and relevant websites to do the research. Try to find the sources that can contradict your thinking, that's what proper research is.

Develop a statement for thesis: A thesis statement represents the central argument of your research, it tells the purpose of your research. It should consist of the answer to your research question. As the further do the research, you maybe change the thesis statement because many things come to mind as you proceed.

Write the first draft: After following all these steps and making a research outline that gives an idea of the research you can proceed to write your first draft. Now, you can make changes to it until it's not completed.
Why do you need university assignment writing help?
Plagiarism-free content: For these academic assignments it is necessary that the content should be authentic which means it should be completely plagiarism free. It should not be copied from anywhere. Students find it very difficult to fulfill this requirement so they go online and get Academic Assignment Help for themselves.

Timely completion: The essays and assignments have deadlines given by the tutor and the students have to submit them before that time. If you are busy studying some other subject or some other work and you are scared that you will exceed the deadline then you can take instant Assignment Help from Writers.

Multiple feedbacks: Good writing services always provide the facility of multiple feedbacks. That means if you want to make changes according to your or you think that the brief requirements do not meet then you can ask them to change that.

24*7 customer support: You can contact them anytime you want if you have any queries related to the assignment or services. You can buy assignment help services online from various websites but always check the reviews before taking them as the scams are increasing.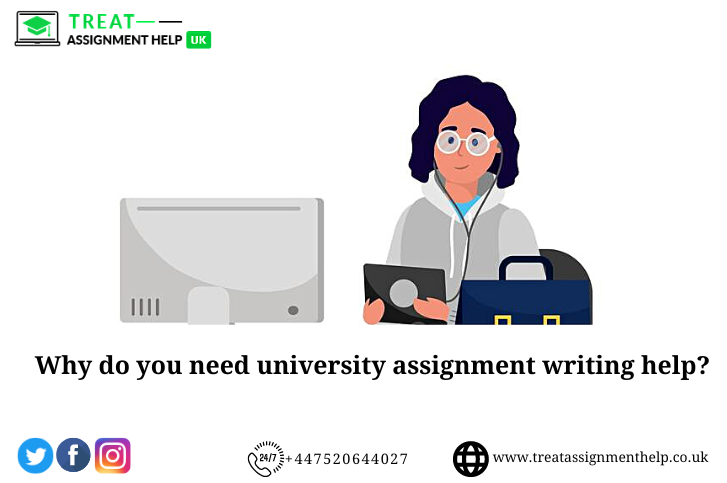 Conclusion
The university assignments are tough to write but if you have proper skills and knowledge you can write them with a lot of patience and determination as it can make you do many changes.
FAQs
1. Do I have to choose the topic for research every time?
Ans. No, it is not mandatory that you have to choose the topic every time. The tutor will give you a brief for your research project and most of the time the topic is mentioned there. If the topic is not there then you have to choose it yourself.
2. How many times should I proofread my assignment?
Ans. There is no specific count to it. You should proofread it once you finish writing it then edit all the errors you find. After that, you can proofread it as many times as you want until you get satisfied. Ideally, two or three times are enough.
3. Do you also provide academic paper writing services?
Ans. Yes, we also provide these services. The experts of our team can write your academic papers, you just have to provide the credentials that we need and we will write your papers whether it is offline or online.