How the consumer makes their decision, influences the other consumers in making a decision and the behaviour of the consumers in the market environment all can be understood through the study of consumer behaviour. It can also be understood in these ways all those factors which influence the choices of the consumers, their action and their attitude towards the market are included in the study of consumer behaviour. It is very important to know the consumer's behaviour from a marketing point of view because that will help a company for understanding their customers to increase their significant sales and profit. For example, if any particular company know the reason why their customers are buying their products then the company can able focus on making those products more attractive and sailable. Students of MBA must have good knowledge about the behaviour of the consumers, which they can gain through doing assignments, and doing deep research, but it is difficult for some students to write assignments including proper data. Such students take MBA Assignment Help to submit an assignment with proper data and score good marks.
What do you mean by consumer behaviour?
The study through which one can understand more about why people buy and use different products, experiences, services and ideas is defined as consumer behaviour. Other than this it is also important for the businesses, this study will help the businesses to have a better understanding of the needs, wants and desires of their customers which help them to discover products accordingly.
Consumer behaviour is one of the important topics for students with an MBA to understand. If you need help with your assignments on this topic then avail our business management assignment help in the UK from our subject experts.
Importance of consumer behaviour
Companies need to understand the behaviour of their consumers which will be a great help for every company to make changes in their existing products and help in launching new products accordingly. If the companies failed to understand the consumer's reaction to any product then that can prove to be a great product failure for the company.
Differentiating consumers
Differentiating consumers in marketing is the process through which a company can make distinguish one consumer from another consumer. This differentiation helps to create a targeted group of consumers who have similar behaviour. Grouping different consumers according to their different choice help companies design separate marketing programs for each group.
Consumer retention
Consumer behaviour is not only important to understand for the company to attract new customers for their products but also to retain the existing customers. When the existing customers get satisfied using the product, they will for sure repeat using the product. Hence, the company should market their product in such a way which will make their consumer purchase their product again and again. That is why it is important to give attention to the buying behaviour of their existing customers.
Design a relevant marketing program
When companies understand the behaviour of their customers they can able to design and plan marketing campaigns accordingly. Each campaign can speak for a specific group of consumers based on their behaviour. The logo design, packaging everything about the products is made based on consumer behaviour.
Prediction of marketing trends
Through the behaviour of the consumers, the latest market trends or any shift in the existing market trends can be easily predicted. So, it is helpful for the company to save on their resources either allocating resources for products which will fail in the market or will be a total waste.
Competition
By studying the consumer's behaviour you can get to know whether the consumer is buying from your competitors. Why they are buying from competitors? What is that particular feature which is attracting them? What gap in your product makes your consumers buy from your competitors? Through all this, you can able to improve your product.
Innovative new product
Most new products proved to be a failure in the market. Companies try to increase the success rate of their new products through the study of consumer behaviour. By analyzing the behaviour of their consumer Nike realize that most of their targeted consumers are not professional athletes but they are more likely to be like professionals. So, they design their campaign according to that study.
Staying relevant in the market
It is very challenging for companies to stay relevant in the market with all the rapid changes happening. The main reason behind the such rapid change is the continuous changes in the behaviour of consumers. Nowadays consumer has lots of choices in the market and which make them switch to other brands easily.
Improving customer service
Customer service is very important for consumers they require a different level of customer service. If the company can understand the different bases of the difference then it will be easy for them to provide appropriate customer service as per the need of individual customers.
So, companies need to talk to their customers, understand their problems and most importantly must understand the need and expectations of their customers.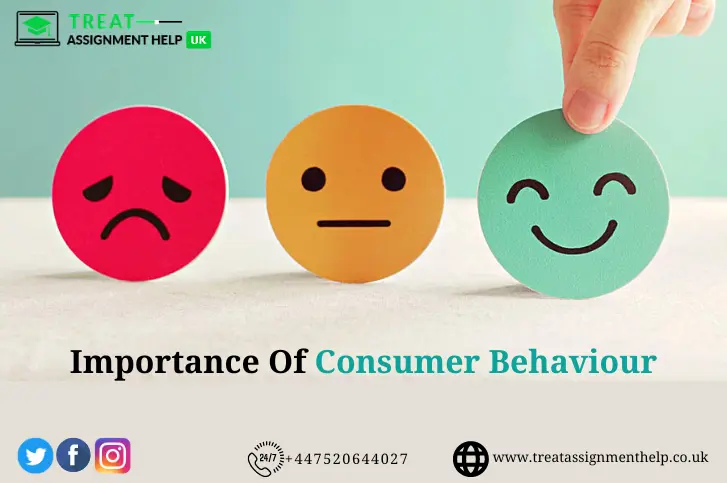 Conclusion
If you are having a problem with understand your marketing assignment then take our Marketing Assignment Help and complete it without tension. Score top grades in your assignments with Treat assignment Help UK
FAQ
What is important consumer behaviour?
Consumer behaviour can be influenced by several behaviours, the most important among them is the social, cultural, personal and psychological factors.
What is the meaning of consumer behaviour?
Analyzing how consumers decide on buying any product, when to buy and how can be defined as consumer behaviour.
Why is consumer behaviour important in marketing?
When businesses can understand the thinking, decision and feelings of the buyers that will help them to determine what will be the best way to market their products and services.