Students pursuing a degree course in management studies for their higher studies must possess knowledge of different tactics to excel in their academic field. Management studies provide great opportunities to enhance your knowledge base and gain valuable skills for a bright future after completion of the academic term. During the time of studies, there are multiple examinations, tests, and assignments, and other studying tasks that need to be completed in due time with quality upkeep of the standards as prescribed by your universities.
The experts of management studies at Treat Assignment have described some tactics that are very crucial to succeed in this subject area.
Let's look at all of them in a detailed manner:
1. Always Remember the Goal: One should keep in mind the end goal so that perseverance can be obtained to deal with challenges that come on the way to achieve that goal. The goal to achieve excellence in management studies requires to have certain small goals and this should be updated and remembered from time to time. During the time of following various academic activities, there might come various challenges that may hinder your chances of success. But, with the clarity of goals in mind, you would stand firm against all those odds and find the best solution to deal with such scenarios.
2. Be Organized: Management study is all about effective management of various tasks that come in the path of achievement of organizational goals. Whether you are a college-going student or a manager of the company, you will be required to handle several tasks in order to maintain a healthy balance between various activities. To have effective management the key requirement is to have an organized plan for every action. The more organized you would be, the easier it would be to achieve the end goal. You should stick to some schedule and completion of decided tasks should be the key focus. Dedicate adequate time to homework assignments and other tasks so that everything is complete with the deadline. Along with getting organized, one should also maintain the scope of flexibility as per the changing requirements and updations in the present scenario. This will enable the person to become more adaptable to the dynamic functionality in business management.
3. Focus on Study Skills: Whether it's been quite a long time since you've been undergoing the studies on management subjects or you are new to this field, you must understand the importance of understanding and reviewing difficult material. You must possess advanced study skills to be good at an advanced level of studies. At Treat Assignment Help, there are many informative blogs through which you can learn and get perspectives on effective ways to study and acquire study skills. This would help you get the best results and an excellent academic record.
4. Get a Support System: The course on management studies includes diversified tasks and one needs to perform all such tasks with utmost precision and diligence. But, due to paucity of time, it becomes quite difficult to maintain a healthy balance even after following a proper schedule. In that situation, the best possible solution is to take help from the experts in this field. Many organizations like us provided expert guidance and 24*7 assistance for all your academic doubts related to assignment help and writing. You can reach out to us to get expert advice and to enhance your chances of getting good grades with no stress of deadlines and failure.
5. Effectively Use the Resources: The majority of universities provide ample resources but they go underutilized. These resources induce counseling services, library services, disability services, etc. You must be well aware of the list of resources provided by your university for a hassle-free study. Many free writing classes might prove to be helpful to become better at assignment writing or understanding of the subject. Always try to take full advantage of the resources provided during your tuition period so that you can avail the best possible outcome.
Popular FAQs on Management Assignment Help Services offered by Treat Assignment Help:
1. Why should I choose Assignment Help from you?
Treat Assignment Help provides the best management assignment help service in UK. We have a team of professional academic writers who excel on every front related to management studies and have worked for years in this field. Their years of experience along with a huge repository of knowledge enable them to deliver the best quality write-up. The key features of our services are:
| | |
| --- | --- |
| 100% Satisfaction Guarantee | World-Class Professional Writers |
| | Round-The-Clock Availability |
| Highly Reputed Organization | Effective And Efficient Service |
| Clear Quote And Presentation | |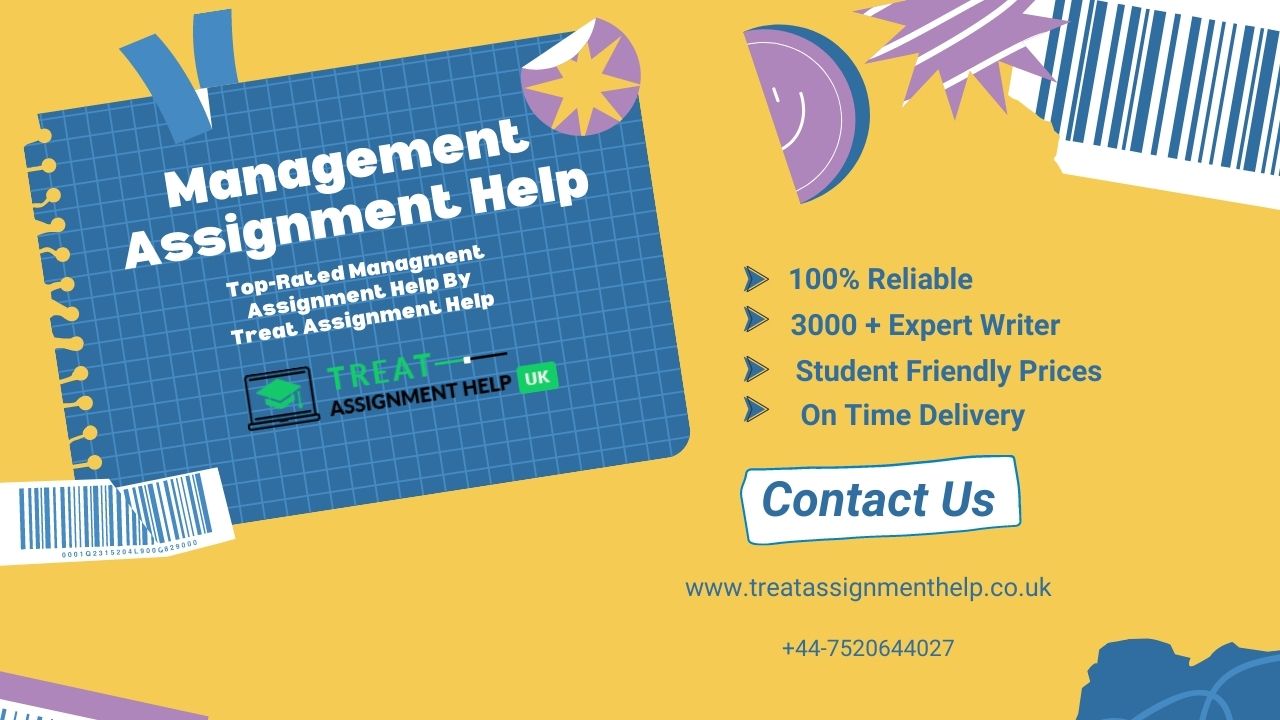 2. What are your working hours?
It is the era of the digital world and hence the working hours criterion is not a restriction for dedicated organizations like us. We are available 24*7 to address your queries and take orders and also deliver at any time of the day and night as per your requirements.
3. How long would it take to complete the management assignment?
Online management assignment help provided by us is a highly looked after assignment writing service by many students due to our on-time delivery. In most cases, you will get the delivery much before the deadlines. It usually takes the time of 2-3 days to get the management assignment done by our assignment experts. If you need to get it done before the usual timing or due to emergency situations, then you will be required to pay a bit extra.
4. Can I get my assignment revised after the completion?
Yes, you can get your management assignment revised after completion. But, there is a criterion to get that revised, which states that if the information addressed in the assignment is not as per the specifications of university guidelines then our experts will revise it and make it up to the standard level. But, if you want to add on some additional facts other than the stipulated guidelines then you would be needed to pay extra for that purpose.